Posted by Samantha Madden on 14th Jan 2020

CBD for the Animals of Luce Farm - and Yours
The furry family members of Luce Farm have been consuming CBD for years - way before all the other animals knew it was cool. We recently launched a Hemp Extract for Pets, made with certified organic olive oil (great for skin and coat), containing 1,000 mg of CBD per bottle, and the feedback has been outstanding! We're often asked about CBD for pets: Dosage, frequency, delivery, etc. - so we we checked in with Becca to ask about launching our pet product, and how she's been incorporating hemp into the routines of all the Luce Farm animals, from the goats to the house cats.
Why did you make a pet product?
Great question! We were hearing from a lot of customers who have used our extracts, oil, and topical products for their furry family members, and we do the same. From anxiety to hot spots, we've had a lot of success adding CBD to our pets' wellness routines. We didn't want to skimp on quality, either - our animals are part of the family and they deserve the best. That's also why we decided to develop a hemp extract (our most popular human product) for pets - it's just so versatile: add it to an organic dog biscuit recipe, drop a serving into their kibble, or mix in with peanut butter if you've got a picky eater!
What is the standard CBD dose for pets?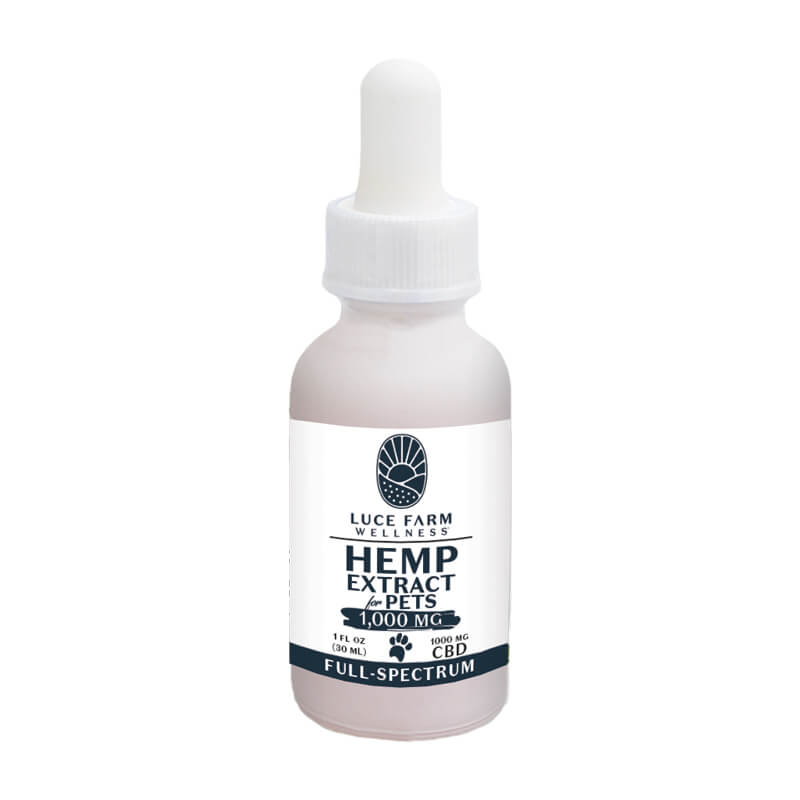 First and foremost, we'd be remiss not to mention that you should always consult your veterinarian before starting a new wellness routine for your pets!
One serving size of our Hemp Extract for Pets is 0.25 mL (a 1/4 full dropper) — the same size as our original Hemp Extracts. Each single serving delivers 8 mg of CBD, which is a great starting point for pets who are new to CBD. Just like humans, we always suggest you start slow and low, and increase as needed. We're also big fans of journaling - it's a great way to learn from experience and to make educated decisions. Take note of how your pet responds to varying doses and delivery methods, track their behavior and overall mood day-to-day, and bring this information to your vet for further guidance.
Which animals on the farm use your CBD products?
All the mammals at Luce Farm are hemp-infused in one way or another! Our dogs get 2 servings each in their breakfast, the cats get one serving, the horses take it circumstantially, particularly after trail rides, and between clearing the fields and infusing hemp in their sweet grain, the goats are getting their fair share of CBD and CBDa (CBD in raw form)!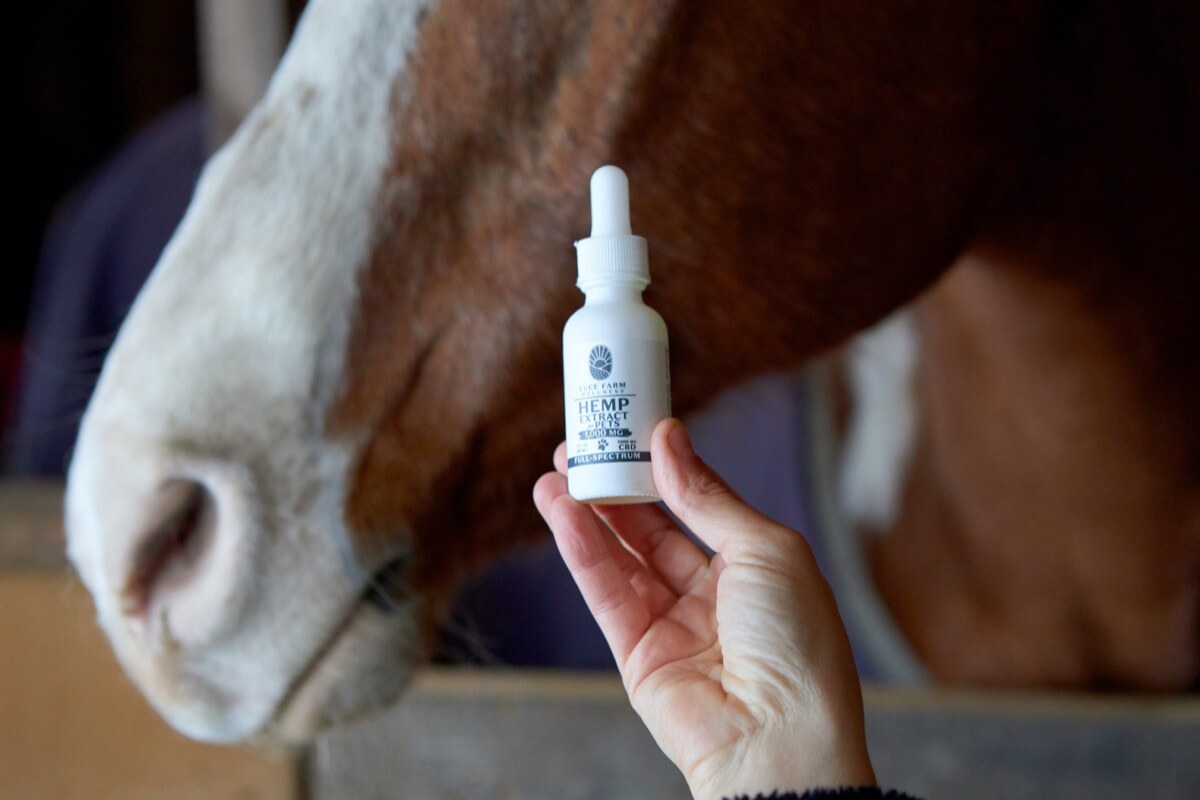 How does CBD help pets?
We're not in the business of making any scientific claims about the health benefits of CBD in pets (or people), but I can speak to my personal experience with one of our pups, Ella. With a grim diagnosis in 2018 (rapidly growing tumors and daily seizures), her outlook wasn't great. Along with some basic vet-recommended therapies, we decided to increase her daily dose of Hemp Extract and her response was, well, pretty miraculous! She's still with us, silly as ever, tossing her dish around the kitchen for attention and causing a ruckus with her brother and sister. I should mention that when we informed the vet that Ella appeared to be on the mend, they were confident it couldn't be a result of consistent CBD use, but I'll happily disagree. :)
Another important note: All mammals have a endocannabinoid receptors located in the central nervous system, whose responsibility is to maintain balance, or 'homeostasis' the body. Cannabinoids - the naturally-occurring compounds found in the hemp plant - interact with these receptors and are thought to aid them in doing their job!
A note from a happy customer:
My 4 year old lab had surgery for an ACL repair.We bought Luce Farm 1500mg CBD from our pet store. He is five days post surgery and has very comfortable and very little whining. Full disclosure, he is finishing his pain meds today. However, I think the CBD has helped keep him mellow. I plan to continue the CBD treatments as long as the recovery period takes.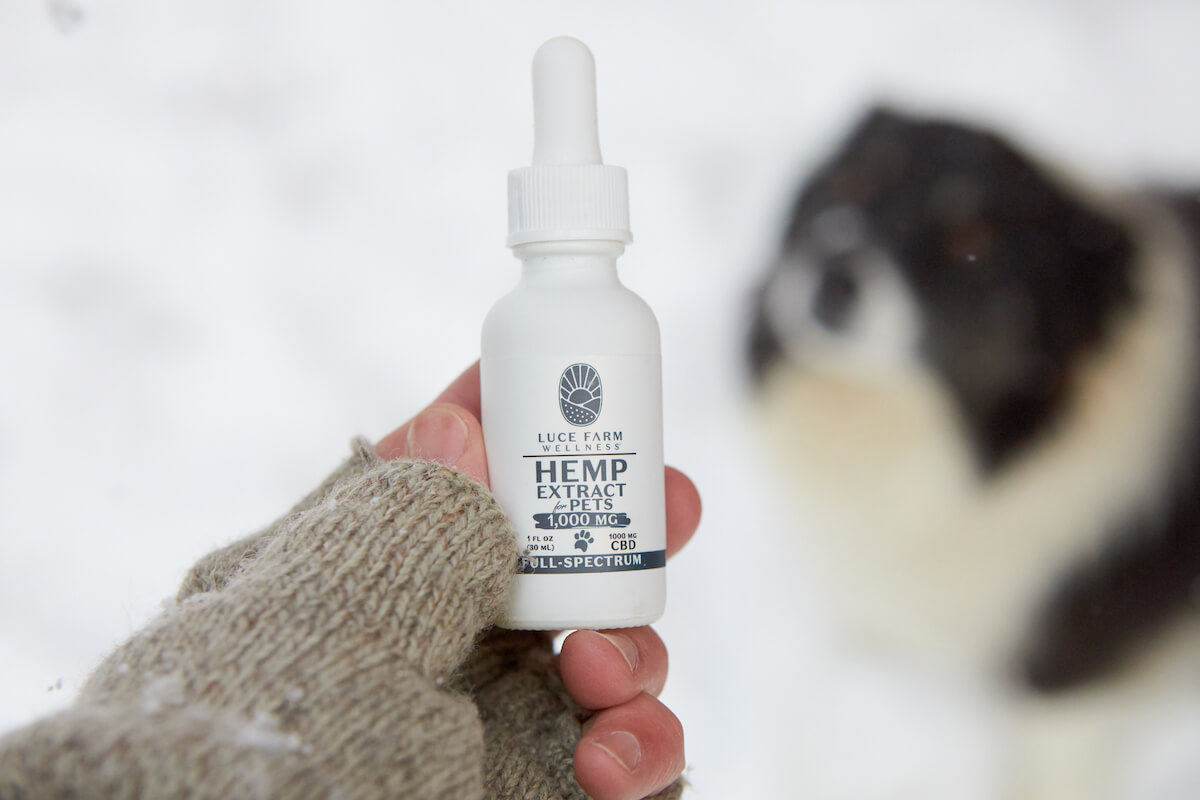 As always, please reach out with any questions: info@lucefarmwellness.com