Coconut oil has boomed in popularity in recent years, and it's easy to see why. Even beyond its impressive health claims like supporting weight loss and brain health, coconut oil has a myriad of everyday uses. So what's even better than coconut oil? Coconut oil with CBD!
CBD coconut oil is a popular product, but some people might be wondering the best ways to use it. In general, its uses break down into ways to eat it as well as use it topically. Let's explore some of the best ways it can be enjoyed.
Eat It
Superfood Smoothie with CBD Coconut Oil
There's no smarter way to eat than to stack benefits. With a CBD smoothie you're getting powerful nutrients to keep you energized, a satiated stomach to keep your blood sugar levels balanced, and a soothed soul thanks to CBD! Here's a satisfying, creamy smoothie recipe we recommend to really keep you full:
Blend the following in a high-speed blender:
1 handful frozen berries
1 banana
2 tablespoons oats
2 tablespoons hemp protein powder
1 heaping teaspoon organic peanut butter
1/4 teaspoon CBD coconut oil (adjust the amount to your intended CBD dose)
2 cups oat milk
If you like a more liquid consistency, add more milk.
Raw Chocolates with CBD Coconut Oil
Raw chocolates are a fun, easy, and mind-blowingly delicious treat. It's a one-step way to gain both the benefits of CBD and of raw cacao. They only take a few minutes to whip up, a few hours to freeze, and probably just a few seconds to devour.
1 cup organic coconut oil
2 fl. oz CBD coconut oil
1 cup raw cacao powder
1/2 cup agave, coconut nectar or honey
Mix the ingredients in a bowl with a whisk until they are smoothly incorporated. Give it a taste to see if you like the amount of sweetness. When it's just right, transfer to a silicone ice cube tray or any other silicone tray with shapes you like. Pop them in the freezer until hard. This makes about 30 servings.
Once you're ready to eat them, keep in mind that they'll melt quite quickly. We recommend storing them in the freezer until you're ready to eat them.
Pumpkin Spice Latte with CBD Coconut Oil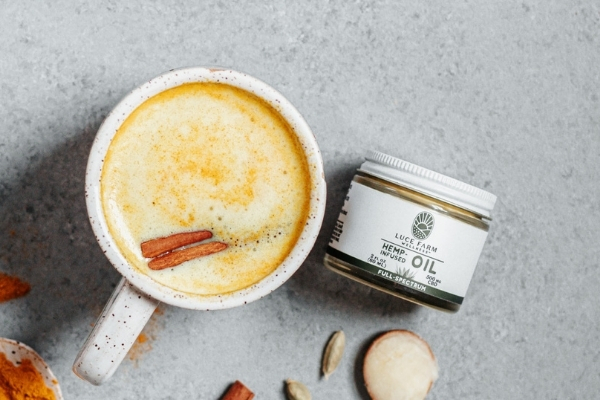 What would fall be without Pumpkin Spice Lattes?! It's the ultimate seasonal indulgence, and you don't need to pay Starbucks when you can make something similar and even better at home. Most importantly, Starbucks isn't selling their famous drinks with CBD!
1 cup milk (we recommend coconut or oat milk)
3 tablespoons pumpkin puree
¼ teaspoon CBD coconut oil (adjust amount to desired dose)
Your own customizable blend of spices. Consider the following based on your tastes or what you have conveniently available:
½ teaspoon of cinnamon and ground ginger, vanilla extract
Healthy pinch of nutmeg, allspice, clove
Optional: shot of espresso
Combine all these ingredients in a small to medium sized saucepan, bringing them to a steady simmer while whisking. Once they've reached a low boiling point, you can pour them into a cup to be enjoyed!
Mixed Berry Oatmeal with Coconut CBD Oil
How you start your morning can have an outsized effect on the rest of your day. Circumstances may not be any different...the car might still break down, or your kids might test your sanity. But the way you react will make all the difference.
And what determines a good start to the day if not the first meal of the day, when you literally break the fast of the night before? Get the day started on the right foot with a nourishing oatmeal, spruced up with CBD to keep that can-do attitude.
1 cup organic oats
2 cups organic plant milk (we recommend oat)
1 handful frozen berries
½ teaspoon cinnamon
¼ teaspoon CBD coconut oil (adjust amount to desired dose)
Depending on the type of oats you have, follow the instructions on the package, adding the fruit, spices and coconut oil as you go. Bring everything to a boil, then let it simmer to the desired consistency.
There are many recipes to try. But best of all, if you would like the benefits of CBD in coconut oil, you don't need to do much work at all. Just grab a spoon and dig in right from the jar!
Use it Topically
Coconut oil doesn't just work from the inside out. You can use it topically for a whole host of uses, which are only made better with a little CBD!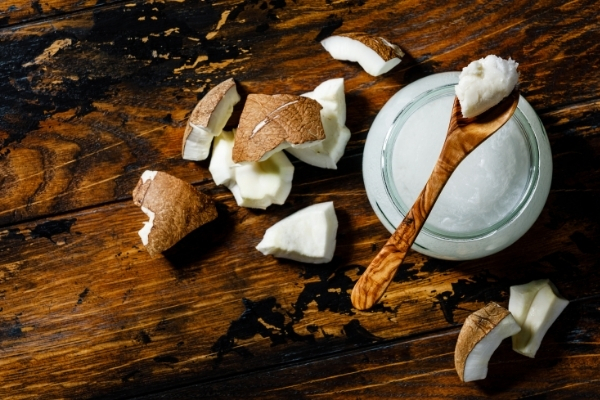 Full Body Massage Oil
Sitting in front of the computer all day you probably have a few knots in your shoulders. Now imagine someone trying to rub them out, but with the friction of their fingers burning against your skin. For a massage to be both relaxing and effective, you need an oil to glide on your skin and make each stroke comfortable. Coconut oil is one of the top natural oils used and recommended by massage therapists. However, what coconut oil can do, CBD coconut oil can do better!
Use CBD Coconut Oil to give someone (or yourself) a massage. And if you don't know how, we've got you covered with our blog on how to give a awesome massage. If you're giving yourself a massage after a long hectic day that's got you anxious, try heating our CBD coconut oil to a warm, comfortable temperature before using it. Sometimes the smallest things make the biggest difference, and the soothing warm temperature can help you feel more grounded as you settle in for the evening.
For your Joints
Do your joints hurt from time to time? Could be a weak knee, an aching elbow or knuckles that pang while typing. If so, CBD coconut oil could be the answer. Many people swear by this solution and with no known side effects. More research is needed to establish a scientific explanation, but some studies have suggested that CBD can have therapeutic effects on inflammation when applied through the skin.
Dry or Cracked Skin
If you live in a state where winter comes on as strong as it does in Vermont, you'll definitely need a solution for the way it impacts your skin. The cold days strip away moisture and make skin dry from the combination of cold outside, and dry air inside. Maybe you notice your cheeks getting rough, your elbows get ashy, or those darn fingertip cracks. Geez those hurt!
You can address all these issues with CBD coconut oil. Coconut oil will create a barrier on your skin, trapping moisture inside and keeping it safe from the elements. Most importantly, CBD may have anti-inflammatory properties that are soothing and healing to your skin, which can pair nicely with coconut oil's moisturizing and antibacterial properties.
The best way to keep your skin healthy is to act from a place of preventing damage rather than respond to it. You don't need to wait for skin problems to arise. An ounce of prevention is worth a pound of cure, and just a small finger-scoop of CBD coconut oil can be all the prevention you need. It can also give you a little mental health boost to give yourself those few minutes of self care as you tend to your skin, the biggest organ on your body!
So Many Uses
Coconut oil has a ton of uses both internally and externally, a feature shared by few other plant oils. When you add CBD, you're giving an already amazing substance a serious wellness boost. Every person is different, and just as finding your ideal CBD dose is a personal matter that can be best reached through experimentation, so is finding out all the ways you can benefit from CBD coconut oil.
Try these applications and also get creative. Just with personal grooming alone - using it as a lip balm, hair mask, cuticle oil, makeup remover, or to calm your skin after a day spent in the sun. Our co-founder, Joe uses our CBD coconut oil as an anti-inflammatory aftershave!
Keep your mind open and a jar of CBD coconut oil handy for all the ways you can benefit from this versatile product.