Today we're combining fizzy, probiotic kombucha with our Full-Spectrum Hemp Extract to make a healthful blackberry lime kombucha CBD elixir.
The fermented, sweet-and-sour flavor profile and slight effervescence of kombucha makes this elixir look and feel like you're drinking a specialty cocktail. But instead of alcohol we're using CBD to turn this drink into a wellness powerhouse. The vibrant, earthy flavor of CBD melds with fresh blackberries and lime juice perfectly, creating a fruity, herbal elixir we think you're going to love!
With only four main ingredients and just a minute of work, it's easy to mix up a single serving for yourself or make a big batch to share at a summer barbecue.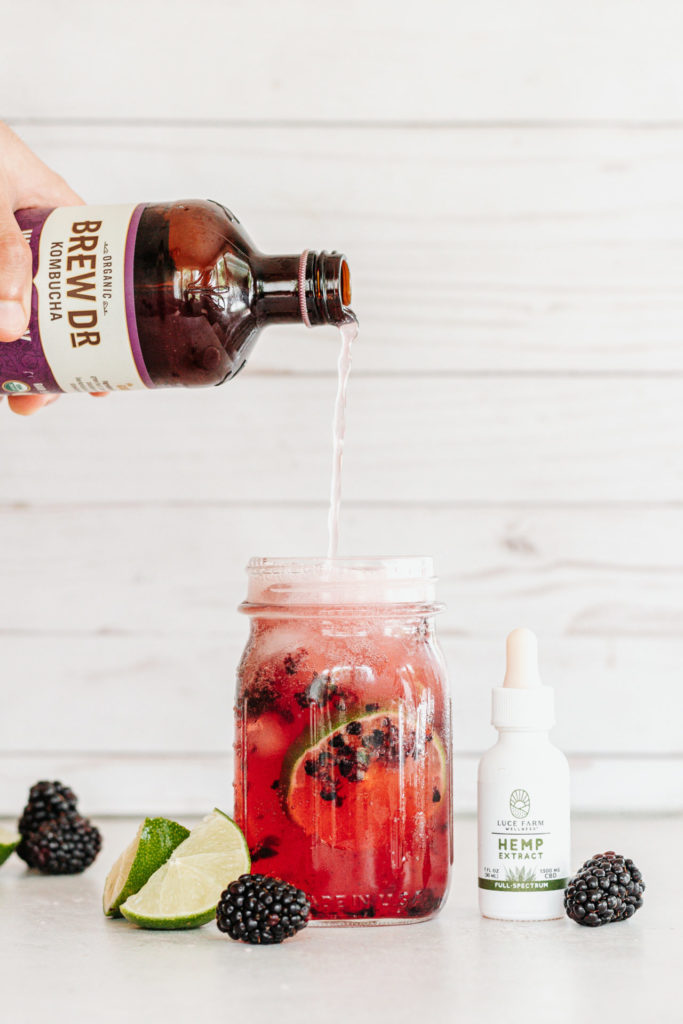 To make this blackberry lime kombucha CBD elixir, we'll start by muddling fresh blackberries and lime juice in the bottom of a glass. Your preferred dosage of our full-spectrum hemp extract goes on top, followed by ice and a generous amount of your favorite kombucha. We recommend using a kombucha flavor that's complimentary to blackberries such as ginger, lemon, or plain/unflavored.
This elixir is the perfect way to unwind after a long, hot summer day. It's fresh, bright, a little tart, and ultra refreshing. Switch up the flavor profile with whatever berries are in season and experiment with some fun kombucha flavors to make this drink your own!
---
Blackberry-Lime Kombucha CBD Elixir
This elixir is a fun twist on a cocktail made with kombucha, blackberries, lime juice, and CBD instead of alcohol. It's fresh, tart, and super flavorful!
3-4 large blackberries (about 1/4 cup)
1/2 a lime
0.25 mL Luce Farm Full Spectrum Hemp Extract (12.5mg CBD)
1 cup ice (or enough to fill your glass)
8 oz kombucha (any flavor)
Place blackberries in the bottom of a 16oz glass. Use the back of a wooden spoon or a cocktail muddler to quickly smash them.
Squeeze in the juice from the lime and add the Full-Spectrum Hemp Extract, then stir to combine. Top with ice and kombucha, and serve!
Any flavor kombucha you enjoy would be great here. We like using flavors that already have citrus, berries, or ginger - they compliment the blackberries and lime well.
---