This virgin sparkling apple cider sangria is the perfect celebratory mocktail! Made with fresh fruit and our full-spectrum hemp extract for a dose of wellness in every glass.
Simply combine seasonal fall fruit (we're using apples, cranberries, and oranges here, but feel free to use what's in season) with apple cider and some freshly squeezed orange juice. A few sprigs of rosemary add a delicate herbal flavor that pairs perfectly with the earthy notes of CBD. A splash of sparkling water adds effervescence to make this virgin cocktail feel extra special.
Pro tip: since oil floats in water, we like adding the serving of CBD to each glass, rather than adding it all to the pitcher. That way, one person doesn't end up pouring all four servings of CBD into their glass.
Make a big batch for a lively drink to enhance your gatherings. We won't tell if anyone wants to add a splash of alcohol to make theirs a true cocktail.
Either way, we hope you get to enjoy a glass of this simple, nourishing apple cider sangria this season!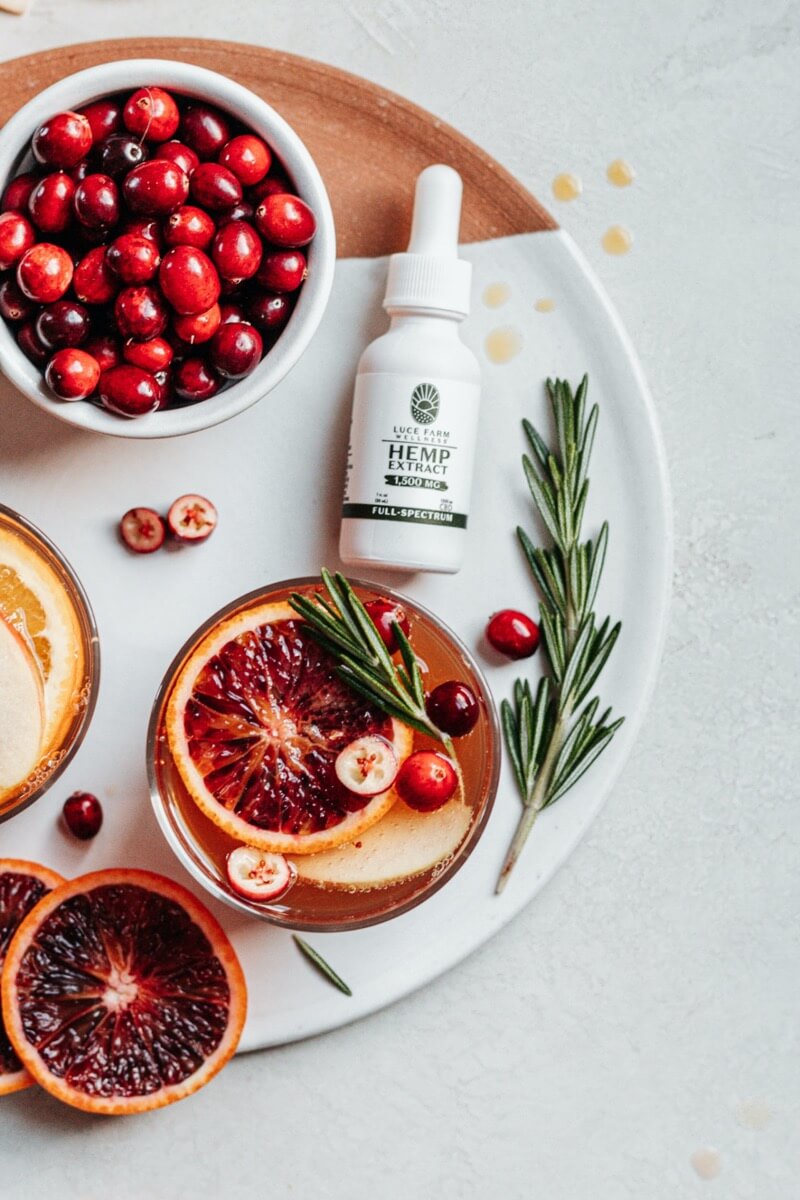 ---
Virgin CBD Apple Cider Sangria
A simple, nourishing recipe for virgin apple cider sangria made with CBD. Use your favorite seasonal fruit to make it your own!
4 cups apple cider
1 cup freshly squeezed orange juice
1 large orange, thinly sliced
1 large apple, thinly sliced
1/2 cup fresh cranberries, sliced in half
2 sprigs rosemary
1 mL Luce Farm Full Spectrum Hemp Extract (50mg CBD)
2 cups sparkling water
Pour apple cider and orange juice into a pitcher. Add sliced oranges, apples, cranberries, and rosemary. Stir to combine.
Let sit for 15 minutes (or up to 3 days, chilled) before serving to let the flavors meld.
When ready to serve, divide into 4-16oz glasses, top each with 0.25mL (12.5mg CBD) Hemp Extract and 1/2 cup sparkling water. Serve + enjoy!
---