Honey is such a versatile ingredient. Of course, it's most commonly used as a sweetener in hot tea or drizzled on desserts. But honey is also featured in many DIY wellness recipes.
One popular way to use honey is to pair it with other ingredients such as CBD and use it to boost your skincare game. In this post, we'll show you how to create a hemp honey facial mask using a few simple ingredients.
CBD-Infused Honey Face Mask
Skin care and self-care have become more necessary than ever as spas and aestheticians close, maskne rages (it's a real thing), and people are spending more time at home.
Facials have become a staple in many contemporary skincare routines, and making your own DIY face mask adds a little creativity to the process. You get to select your own ingredients and customize your recipe to your skin's needs. And unlike store-bought skin care, you can take comfort knowing that every ingredient has been approved by the most important authority - you!
For this recipe, we recommend using our Luce Farm Wellness Hemp-Infused Honey, made with raw, Vermont honey and infused with our certified organic full-spectrum hemp extract. Alternatively, you can use any type of raw honey you prefer and add Luce Farm Wellness Full-Spectrum Hemp Extract into the mix. Every teaspoon of our hemp-infused honey contains about 10 mg CBD, so consider adding a similar serving size if you choose to create your own CBD honey. The recipe also calls for coconut oil. You can use any type of coconut oil, or opt for our Luce Farm Wellness Hemp-Infused CBD Coconut Oil.
This facial mask offers the following benefits:
Exfoliation:

The oats in this recipe act as a physical exfoliant, gently scraping away dead cells and dirt buildup on the top layer of skin and promoting cell turnover.

Hydration:

The ingredients are particularly good at helping your skin retain moisture, reducing dryness and resulting in smooth, hydrated skin.

De-puffing:

When fluids build up under the skin, your face may appear puffy and uneven. This can happen to anyone when we're tired, under stress, or not feeling well. Massaging a facial mask into the skin can reduce puffiness.

Brightening:

The vitamins and antioxidants found in honey can help nourish the skin and brighten a dull-looking complexion.

Balance:

Both CBD and honey can help bring balance to your skin. This recipe is an excellent choice any time your skin could use a wellness boost.
Here's what you'll need:
Ingredients
Ingredient Notes:
*Raw honey is the preferred choice for skin care vs. processed honey. When honey is pasteurized at high heat, it loses many of its beneficial properties.
**Oats are a form of gentle exfoliant that can help to remove dead skin. It's up to you to decide the type of exfoliation. For extra dry skin, you may want to use whole oats in their original form. For an even gentler exfoliating experience, consider using a food processor or blender to pulse the oats into a grainy or powdery texture.
***If using Luce Farm Wellness CBD-Infused Coconut Oil, be sure to melt the oil very gently using a hot water bath, rather than microwaving or heating on the stove which could damage the cannabinoids.

Optional Add-ins:
The best part of creating a DIY face mask is that you can use any number of ingredients you have on hand to customize your skincare experience. The following are a few suggestions:
Full-spectrum CBD: If you don't have hemp-infused honey, or you would like to add extra CBD to the mix, you can simply add a few drops of CBD tincture to your mask recipe.
Aloe vera: There's a reason that aloe is recommended for sunburn and cooking burns. It's seriously moisturizing and can calm skin redness. If you have an aloe plant growing at home, pinch off one of the leaves and squeeze out some juice for a fresh addition to your face mask.
Cinnamon: If you tend to have oily skin, cinnamon can be a game-changing ingredient in your skincare routine. In addition to its many health-promoting properties, it can soak up excess oil when used topically.
Turmeric: A well-loved spice in Indian and Southeast Asian cuisines, turmeric has many skin-calming properties, but keep in mind that it will stain—your skin, your washcloth, and sometimes even the bowl you use to mix it. The yellowish tint that a turmeric and hemp honey mask leaves behind will wash off easily in a few hours or the next day, but this is not a recommended mask to use before a job interview or important social event.
Essential oils: Essential oils are popular additions to DIY face masks. A few drops can add a pleasant scent and many of their own wellness-promoting properties.
Some options include:
Lavender essential oil

Lemon essential oil

Rose essential oil

Tea Tree essential oil
If you have sensitive skin, be sure to test any new essential oil on a small area like the inner wrist before applying to your face.
Steps
Add all ingredients to a bowl.

Stir the ingredients until thoroughly combined.

Use immediately, or store in an airtight container in the refrigerator.
Tips for Using Your Hemp Honey Mask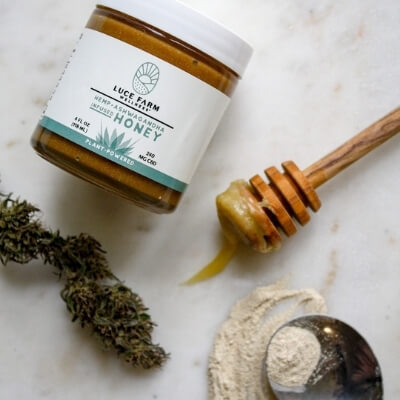 Any time is a good time to apply your hemp honey facial mask, but consider doing so before bed to allow the benefits of this skin care practice to set in overnight.
Begin by using a mild face wash to cleanse the skin before applying your mask. Apply 1-2 tablespoons of the hemp honey mask mixture to your entire face, being careful not to get it in your eyes. Remember to apply the mask under the chin and to the front of the neck as well. These areas are often neglected in typical skin care routines and can benefit greatly from the positive effects of honey and CBD.
Allow the mask to sit on your face for 15-20 minutes to promote absorption. When time has elapsed, use your fingertips to rub the mask in a circular motion to help lightly exfoliate the skin. Do this gently, it should feel stimulating but not abrasive.
Dampen a washcloth with warm water and wipe off the mask. There's no need to rinse with soap afterwards, your skin will continue to absorb the mask's nutrients as time goes on. If using overnight, cleanse and moisturize in the morning as usual. And don't forget to apply your sunscreen if heading outside.
Use this hemp honey mask 1 to 3 times per week for best results.
What are the Benefits of Honey On Your Skin?
Raw honey has long been hailed as a health food because it contains antioxidants. Antioxidants help neutralize the free radicals that are produced as a reaction to certain internal or environmental factors. An excess of free radicals can cause oxidative stress, which may lead to a number of health concerns. The use of antioxidants like Vitamins A, C, and E has recently become popular in many skincare products.
Honey has been used for centuries in healing practices. According to Medical News Today, "Several countries, including the United States, have approved honey in medications for healing wounds." Check out this study on the many ways honey can promote skin health.
Honey can also improve skin's appearance. It helps to lock in moisture beneath the outer layer of skin, which can help smooth the appearance of fine lines and make your face appear firmer.
Is hemp honey good for all skin types?
While this hemp honey facial mask works well with all skin types, it should be noted that those with severe bee pollen allergies should avoid honey. Hemp honey is beneficial for dry skin because of its moisturizing properties. It also has a balancing effect on combination/oily skin that can help bring oil production within normal range.
Benefits of CBD Skin care
Skin problems are often caused by imbalances in the body. Rosacea, eczema, and acne are common manifestations of inflammation. The endocannabinoid system is a neuromodulatory system found in all mammals, including humans, that helps regulate other systems in the body.
When systems become imbalanced due to internal or environmental stressors, the endocannabinoid system gets to work producing endocannabinoids to bring balance to the body. Our body produces two known endocannabinoids, anandamide and 2-AG. The cannabinoids found in hemp extract closely resemble the chemical structure of our endocannabinoids and can influence our bodies in similar ways.
There are cannabinoid receptors located just below the skin. Cannabinoids like CBD and CBG can be absorbed by our skin and provide targeted results wherever they are needed. That's why products like CBD moisturizers, CBD bath bombs, and CBD sports creams have become so popular. CBD supports the ECS in bringing balance to our systems and is a great addition to any skincare routine.
We hope you'll enjoy making time for self-care with this DIY hemp honey face mask recipe!