Our Ginger Beet CBD Elixir may look like a summer sunset in a glass, but is loaded with immune-boosting ingredients our bodies are craving in late winter!
This drink is a simple, earthy blend of cold-pressed beet juice, freshly squeezed orange juice, ginger, and our Hemp + Ashwagandha Infused Honey.
Despite its minimal ingredient list, it packs a major nutritional punch. Beets are called a superfood for good reason: they're naturally antioxidant and anti-inflammatory, as well as a great source of vitamins and minerals like A, B-6, folate, and iron.
Beet juice can be a bit strong tasting on its own, but is balanced with sweet orange juice and spicy ginger - both also known for their immune-boosting properties! A teaspoon of our Hemp + Ashwagandha Honey adds a touch of extra sweetness, the adaptogenic qualities of ashwagandha, and all the goodness of CBD.
A splash of sparkling water or ginger kombucha on top adds a fun pop of fizz, making this drink as equally fit for a special occasion as it is for your daily health routine.
We know beets can be polarizing, but this fun drink might just change your mind! If not, an equal amount of fresh carrot or pineapple juice would be lovely in its place.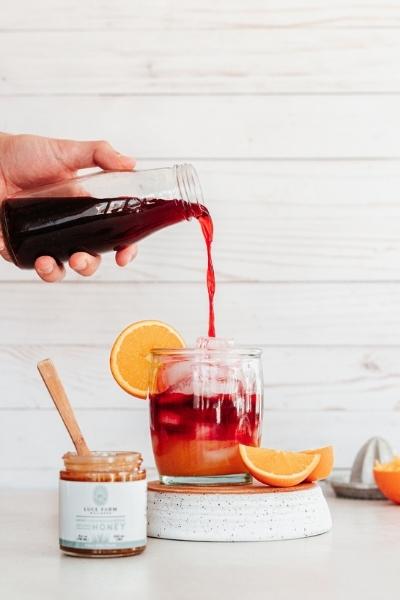 ---
Ginger Beet CBD Elixir
Ingredients:
Juice of half an orange
1/4 tsp freshly grated ginger
1 tsp Hemp + Ashwagandha Infused Honey (10mg CBD)
1/4 cup cold-pressed beet juice (1 large or 2-3 smaller beets, juicing them yourself)
Ice
Sparkling water or ginger kombucha
Instructions:
Pour orange juice into the bottom of a 16oz glass. Add ginger and hemp honey, and stir well to dissolve the honey.
Fill the glass with ice, then pour beet juice over top. Finally, top the glass off with a pour of sparkling water or kombucha.
Stir and enjoy!
---