Fuel your winter adventures with hemp-infused mint chip energy balls!
These power-packed energy balls are made with some majorly nutrient dense ingredients like cashew butter, maple syrup, hemp seeds, and oats. Our Full Spectrum Hemp Extract with Peppermint adds a subtle minty flavor and just over 5mg of CBD to each ball. A generous handful of chopped dark chocolate adds a little crunch and chocolatey goodness to each bite.
They'll keep you moving while you feel like you're snacking on mint chip cookie dough.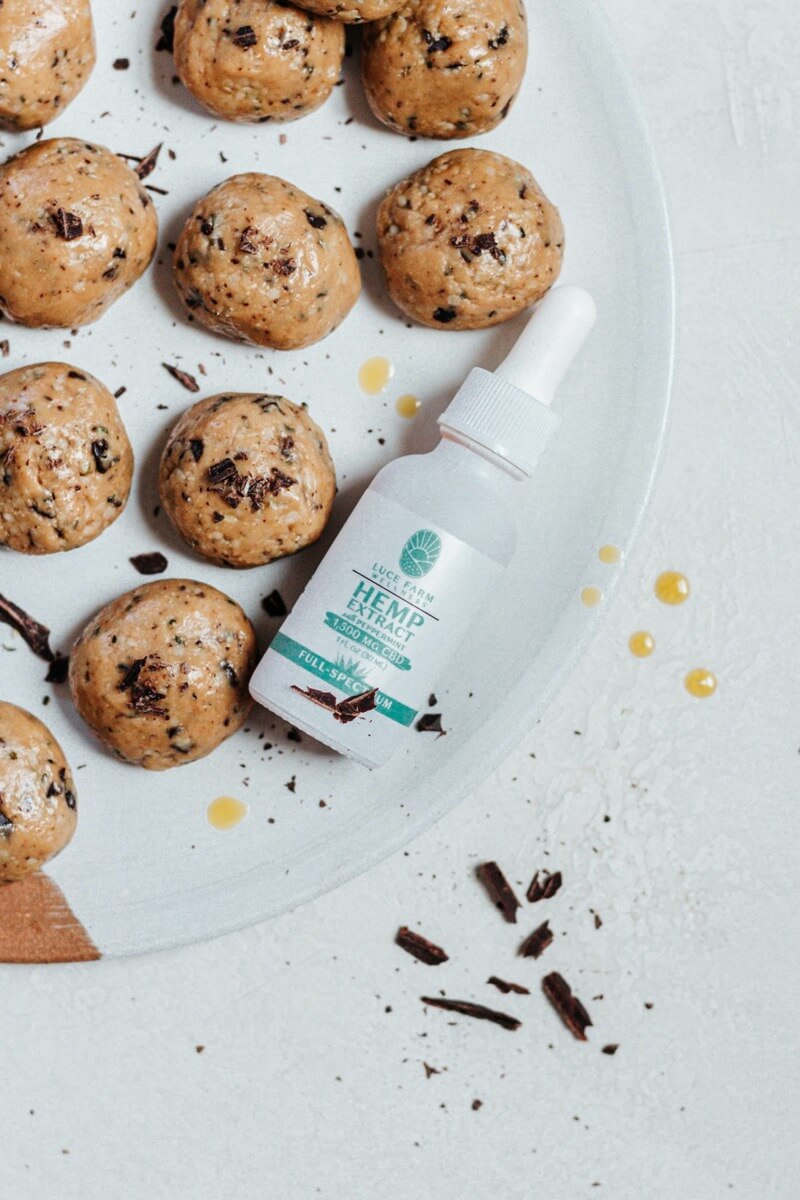 They're quick and easy to make, too! These energy balls only take about 5 minutes to mix together, and 15 minutes before they're ready to eat. They're great to keep on hand for snacking, and make the perfect bite to power up for a walk or ski.
We've even been known to chop up the last few energy balls left in the fridge and stir them into vanilla ice cream for a simple mint chip cookie dough ice cream treat. Every bite is filled with healthy fats, protein, fiber, and CBD, so we can't resist snacking on these energy balls any time of the day!
---
Hemp-Infused Mint Chip Energy Balls
A simple, 6 ingredient, nutrient-dense energy ball with a cookie dough texture and a fun minty flavor from our peppermint hemp extract.
1 cup cashew butter
1/4 cup maple syrup
2 mL Luce Farm Hemp Extract with Peppermint ((100mg CBD))
1/2 cup oat flour
1/2 cup raw hemp seeds (also known as hemp hearts)
1/4 cup finely chopped dark chocolate
Stir together cashew butter, maple syrup, and peppermint hemp extract in a bowl. Add all remaining ingredients and stir again to fully combine. Dough will be soft.

Portion dough into 18 balls (using a small cookie scoop or a very heaping tablespoon to ensure they're all about the same size) and place on a large plate. Roll each ball between your palms to form compact balls.

Transfer the plate to your fridge for at least 15 minutes to chill (this will help them firm up a bit) before transferring to a container with a lid and storing in the fridge for up to 5 days. These are best eaten straight from the fridge, but can be put in a lunchbox or small container to take with you on the go- they will soften at room temperature, but are still perfectly delicious!
---
You can make your own oat flour by blending oats in a food processor or high powered blender. Simply blend 1 cup of oats for 10-20 seconds, or until a flour-like consistency has been achieved, then measure out 1/2 cup for this recipe and save the rest for future use!