This iced CBD mocha latte recipe is a fun way to get the wellness benefits of CBD and add a little chocolate to your day at the same time!
In this recipe, we're pairing the anti-inflammatory, antioxidant health benefits of cacao with our Full-Spectrum Hemp Extract. The result is a surprisingly indulgent-tasting way to get an added nutrient boost in your coffee.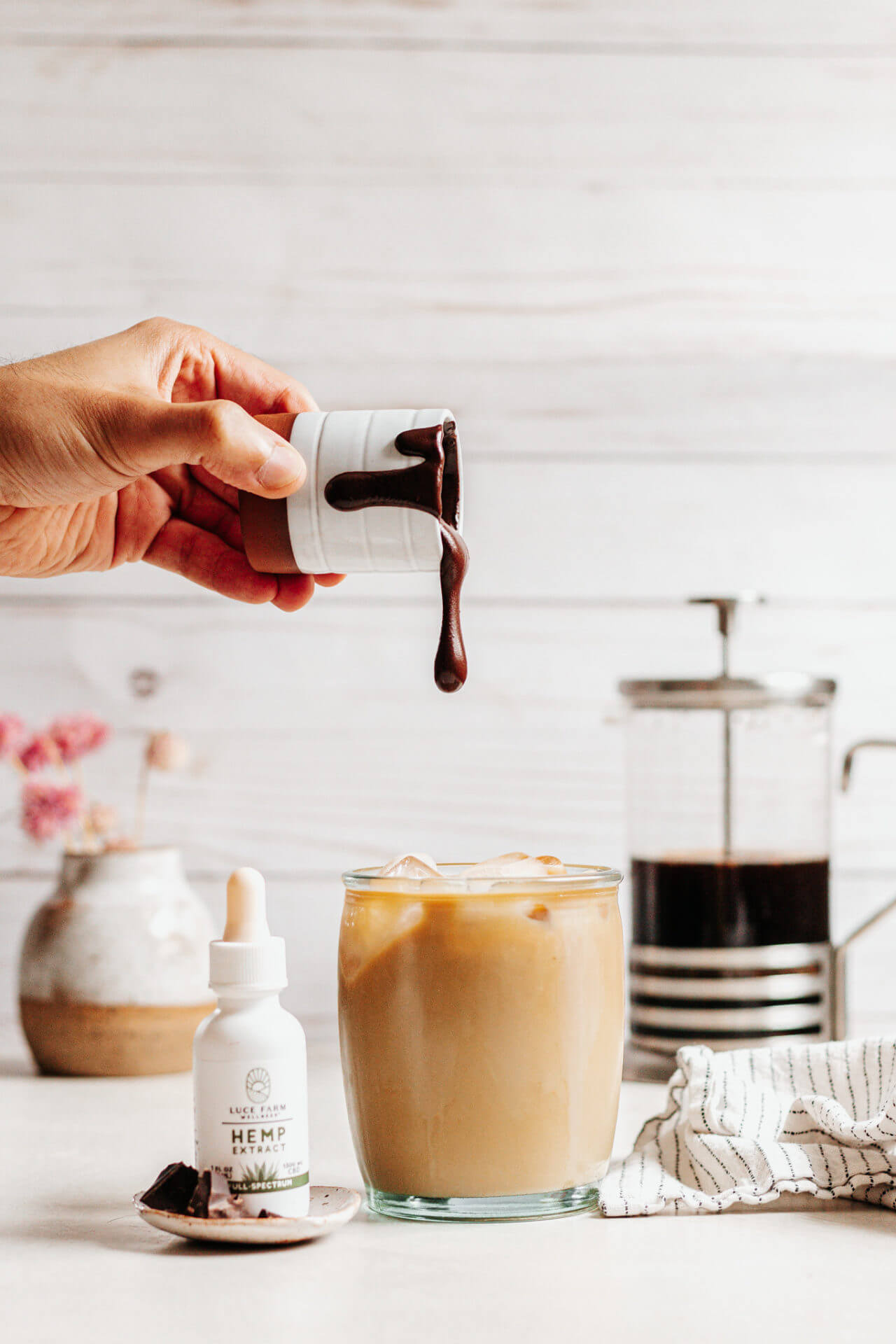 First, we're going to make our own hemp-infused chocolate sauce to swirl into each latte. It takes under 5 minutes to stir together and is made with just a few simple ingredients like cacao or cocoa powder, maple syrup, and coconut oil.
One batch of chocolate sauce makes enough for six lattes, and should last at least a week in the fridge, so you can make mocha lattes all week long. If you're like us and tend to forget about a jar of chocolate sauce in the back of the fridge, we've also discovered that leftovers make an excellent ice cream topping!
An entire batch of this hemp-infused chocolate sauce contains 50mg of CBD from our Full Spectrum Hemp Extract. Divided into six lattes, it equates to about 8mg of CBD per latte, or 4mg CBD per tablespoon of sauce. Feel free to use more or less chocolate sauce per latte based on your desired CBD dose and chocolaty preference.
The herbal, earthy flavor of our hemp extract compliments the rich, intense flavor of cocoa powder and is balanced by the sweetness of maple syrup. We've done a lot of research :) and we think this version is even tastier than those made without CBD in them!
When you're ready to assemble an iced mocha latte, you'll simply add your homemade chocolate sauce to a glass, top with cold brew iced coffee, ice and your preferred milk or creamer, and enjoy! You can even use an extra strong, freshly brewed cup of hot coffee and simply add extra ice to your glass to ensure it cools down quickly.
We hope you love this fun, hemp-infused take on a mocha latte!
Iced CBD Mocha Latte
A quick, easy recipe for an iced mocha latte, swirled with a simple homemade chocolate sauce infused with our CBD for a fun, chocolatey start to your day!
Hemp-Infused Chocolate Sauce
1/4 cup maple syrup
1/4 cup water
2 Tablespoons virgin coconut oil, melted
1 mL Luce Farm Full Spectrum Hemp-Extract ((50mg CBD))
1/2 cup cacao or cocoa powder
For One Mocha Latte
2 Tablespoons Hemp-Infused Chocolate Sauce (from recipe above)
1 cup cold brew coffee (or extra strong freshly-brewed hot coffee)
ice to fill a 16oz glass
1/2 cup milk or cream of choice
Measure maple syrup and water in a liquid measuring cup. Add melted coconut oil, hemp extract, and cocoa powder to the measuring cup and use a spoon to combine. Stir well until no lumps of cocoa powder remain and the sauce is thick and glossy. Taste and add more maple syrup, if needed, to reach your desired sweetness level.
Transfer chocolate sauce to a small container with a lid and store in the fridge until ready to use (or up to 1 week). Sauce will thicken as it chills, but should still dissolve into coffee nonetheless. If yours gets too thick for your liking, it can always be thinned with a splash of water!
To make each latte, add 2 Tablespoons chocolate sauce to the bottom of a 16oz glass and top with cold brew or coffee. Stir to combine, then top with ice and milk.
One batch of Hemp-Infused Chocolate Sauce will yield enough to make 6 lattes (each using 2 Tablespoons of chocolate sauce, for about 8mg CBD per latte). Leftover chocolate sauce is delicious swirled into ice cream!