We love eating big salads on hot summer days, and today we're upping our salad dressing game with this Creamy Lemon Basil Hemp Vinaigrette! It's made with fresh lemon juice, garlic, basil, and gets a subtle hint of sweetness and the health benefits of CBD from our Hemp-Infused Honey.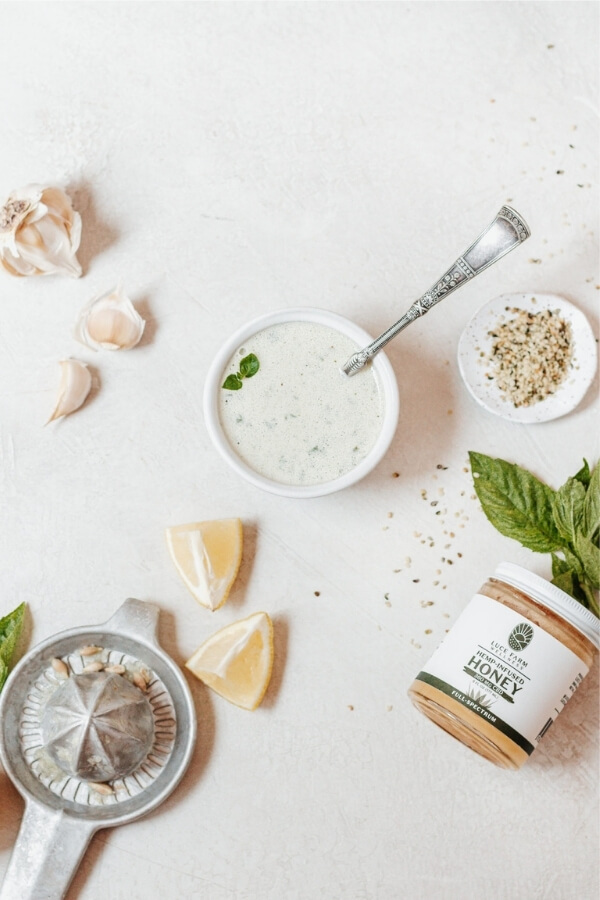 The secret to that creamy texture? Hemp seeds! They give the dressing it's creamy texture and an added boost of protein and fiber, which are usually absent in salad dressings.
This vinaigrette is perfect for drizzling over your favorite green salads, using as a dip for cut veggies, or even as a mayo-free alternative for potato or pasta salad.
Making this lemon basil vinaigrette couldn't be simpler. Everything goes into the blender for 30 seconds to break down the hemp seeds and get nice and creamy, then a big handful of basil is added and blended for another 5 seconds, just to break it up.
The end result is a creamy, vibrant, zingy, ultra fresh salad dressing loaded with both flavor and nutrients.
Whether you're usually a store-bought salad dressing lover or already have a long list of your favorite homemade dressings, we think this Creamy Lemon Basil Hemp Vinaigrette will be a great addition to your repertoire. It's simple to make, full of bright fresh flavors, and super versatile. We've even used it as a sauce to drizzle on grain bowls, or to add a punch of fresh flavor to grilled meats and vegetables.
---
Lemon Basil Hemp Vinaigrette
This creamy lemon basil hemp vinaigrette is made in a blender with hemp seeds and Luce Farm CBD for a super nutritious salad dressing recipe!
1/4 cup freshly squeezed lemon juice
1/4 cup extra virgin olive oil
1/4 cup water
1/4 cup hemp seeds (also known as hemp hearts)
1 Tablespoon Luce Farm Hemp-Infused Honey (30mg CBD)
1 large garlic clove, peeled
1/4 teaspoon each of salt and pepper
1/2 cup fresh basil, loosely packed
Place all ingredients except basil into a high-powered blender or mini food processor. Blend on high for 30 seconds, or until hemp seeds are no longer visible. The dressing should be a creamy white color at this point.
Add basil, and blend for another 5-10 seconds, until basil is finely chopped. Taste and add more salt and/or pepper, if needed, to season.
Pour dressing into an 8oz or larger container with a lid (we like to use a mason jar) and store in the fridge for up to 5 days.
---
This recipe yields around 1 cup of salad dressing, which makes about 4-6 servings, depending on how much dressing you like to use at a time! If divided into 4 servings (about 1/4 cup per serving), each has 7.5mg CBD. If divided into 6 servings (about 2.5 Tablespoons per serving), each has 5mg CBD.