At Luce Farm Wellness, we're all about the all-natural plant power of hemp for its CBD benefits. We have a personal passion for holistic health, and using nature's raw materials to support that. So, it's no surprise one of our flagship products has become our hemp-infused, raw honey.
So, if you're like us, and want to get back in touch with nature for its healing powers then it's time to get to know Luce Farm's CBD honey. Plus, learn more about all its unique benefits that'll sweeten your wellness routines. Now let's explore just why CBD honey is one of the latest holistic health trends, and how Luce Farm is doing it right.
Luce Farm CBD Honey
First, let's start off with the hemp that's cultivated with care for all of our extracted, and infused goods. Luce Farm takes pride in utilizing hemp grown outdoors on certified organic Vermont farmland. All of the plants start from seed, and are harvested by hand. Unlike so many other brands that process the whole plant, as cost-effectively, and efficiently as possible.
We believe full-spectrum hemp extract should come from the flowers of the plant that are rich in cannabinoids, terpenes, essential vitamins and minerals, and not the entire plant itself. That's #1 for quality assurance, and ensuring we stick to our "craft", all-natural roots versus mass production.
As for the honey used for Luce Farm's CBD infused honey, the sweet gooey goodness is curated with the same level of care. We get our honey from Champlain Valley apiaries. They collect from a number of Vermont and Northeast apiaries. In our opinion they produce the most consistently rich raw honey.
By now, it's likely you know some of CBD's most talked-about potential health effects. But what about honey? Together, CBD and honey deliver a combination of pure and raw all-natural benefits.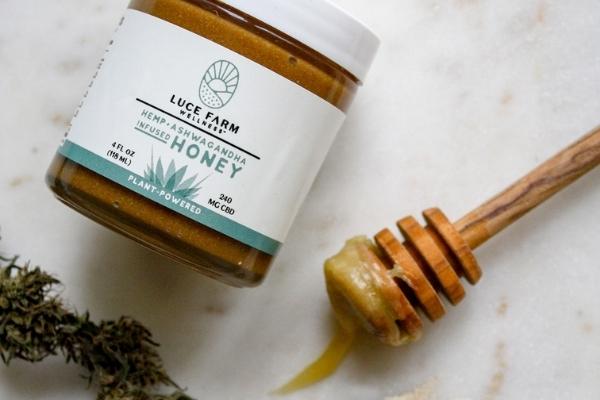 The Benefits of CBD Honey
On its own, honey is considered a "superfood" for its variety of properties that produce beneficial health effects. That's why honey is so popular amongst alternative medicine treatments and at home remedies. In fact, honey has been used medicinally for nearly 8,000 years. More recently, the science and medical community have set out to prove the effects our ancient ancestors understood themselves.
So far, through research it's been shown that honey has:
Antibacterial and antioxidant properties
The ability to treat and soothe coughs
Heal wounds when used topically
Heart-healthy effects that may improve heart function and overall health
In addition to honey's benefits, CBD is proving to be helpful for relieving anxiety, uplifting moods, improving sleep, and reducing pain, amongst a plethora of other health effects. So, when you combine full-spectrum CBD and honey, you're consuming a combination that is chock-full of all-natural compounds to boost your health and wellness routines.
Raw vs Regular Honey
Of course, like CBD, there are different types of honey. The most common difference being raw vs refined. Raw honey comes straight from the honeycomb and is not pasteurized. A process that regular honey endures to increase shelf-life and kill yeast that may affect its flavor.
The high heat of the pasteurization process is said to reduce the number of nutrients and antioxidants contained in the raw material. And, may reduce some of honey's most beneficial compounds that lend to unique health effects. Including:
Bee pollen, which is naturally antioxidant, anti-inflammatory, antibacterial, antifungal and has pain-relieving properties.
Bee propolis, a substance that helps keep the hive together and may help improve cholesterol and triglyceride levels for heart-healthy effects.
Vitamins, minerals, enzymes, amino acids and other antioxidants.
This leads many to believe that raw honey is more medically beneficial than regular varieties, although research hasn't definitively proven the idea. With the anecdotal evidence collected so far, it's safe to say to go raw for the utmost benefits when it comes to using honey as a supplement to health and wellness.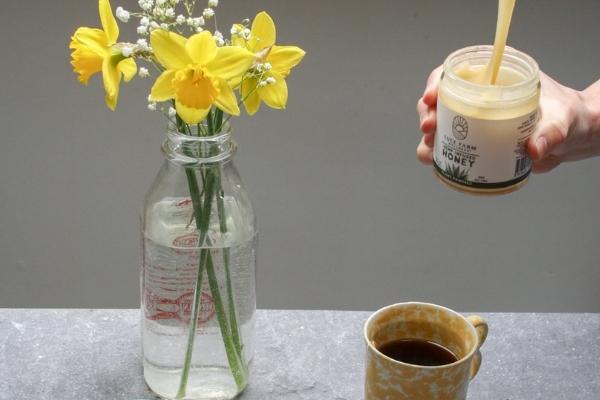 How to Use CBD Honey
CBD honey is growing in popularity not only for its wide array of health benefits, but also for its taste and versatility. Many consumers love the effects of CBD but are turned off by the taste of tinctures. While others like to get creative with how they incorporate CBD into their everyday routines with a side of additional benefits that comes from honey itself.
We originally decided to infuse honey with CBD because we wanted to provide something customers could easily incorporate into their daily routines. A spoonful of honey in tea is a great way to enjoy your wellness routine rather than popping a pill. Taking CBD infused in honey provides a slow-release delivery, as opposed to drops which provide an almost instant effect.
Honey with CBD is beloved by consumers for its ability to be added to their favorite foods and drinks, incorporated into unique recipes of their own, and even used as a topical or ingredient in homemade skin care goods. To get you started, here are some of our favorites ways to use CBD Honey -
A classic tea & honey - With tea's all-natural health advantages, by adding CBD infused honey to your cup you can sip on a trio of benefits. Just like any other cup, boil water, steep your tea, and then add-in CBD honey as a finishing touch for taste and enhanced nutritional value. Not a huge fan of tea? Try a Hemp Honey Mulled Cider, instead!
Top your favorite breakfast - If you're a fan of yogurt parfaits, morning smoothies, or oatmeal in the morning, there's no better start to your day than adding in pure honey CBD. Drizzle the honey over top of your favorite breakfasts for a nutritionally packed beginning to take on the day.
Infuse your favorite recipes - Honey is often used as a healthy substitute for sweeteners in recipes. To amplify health benefits, you can do the same with pure CBD honey, too. Simply swap out sugar or honey from your favorite recipes and use CBD infused honey instead. Need inspiration? Try Honeybee Bliss Balls, a Vegan Cheesecake with Hemp Blueberry Sauce or, even try your hand at a hemp-infused CBD honey mocktail!
Enhance skin care routines - Honey and CBD are just as beneficial when used topically as they are when consumed orally. Together, the two ingredients have the ability to hydrate, de-puff, brighten and balance skin health and tone. You can add CBD infused honey to your own skin-care regimen or make a facial mask of your own. That way you control the ingredients, and ensure all-natural results.
CBD Honey for Holistic Health & Wellness
Today, more and more people are looking for ways to incorporate natural foods into their wellness routines. There are few better ways to do so than with CBD honey. Luce Farm's hemp-infused, full-spectrum, raw version serves as a simple way to enjoy pure and organic ingredients for their nutritional, holistic value.
Interested in trying honey with CBD to boost overall wellness? Get your own jar, or learn more from real-time consumers with our CBD honey reviews. Bee well with CBD infused honey now!